» 2 x Perth to Rottnest, 7 to 12 passengers.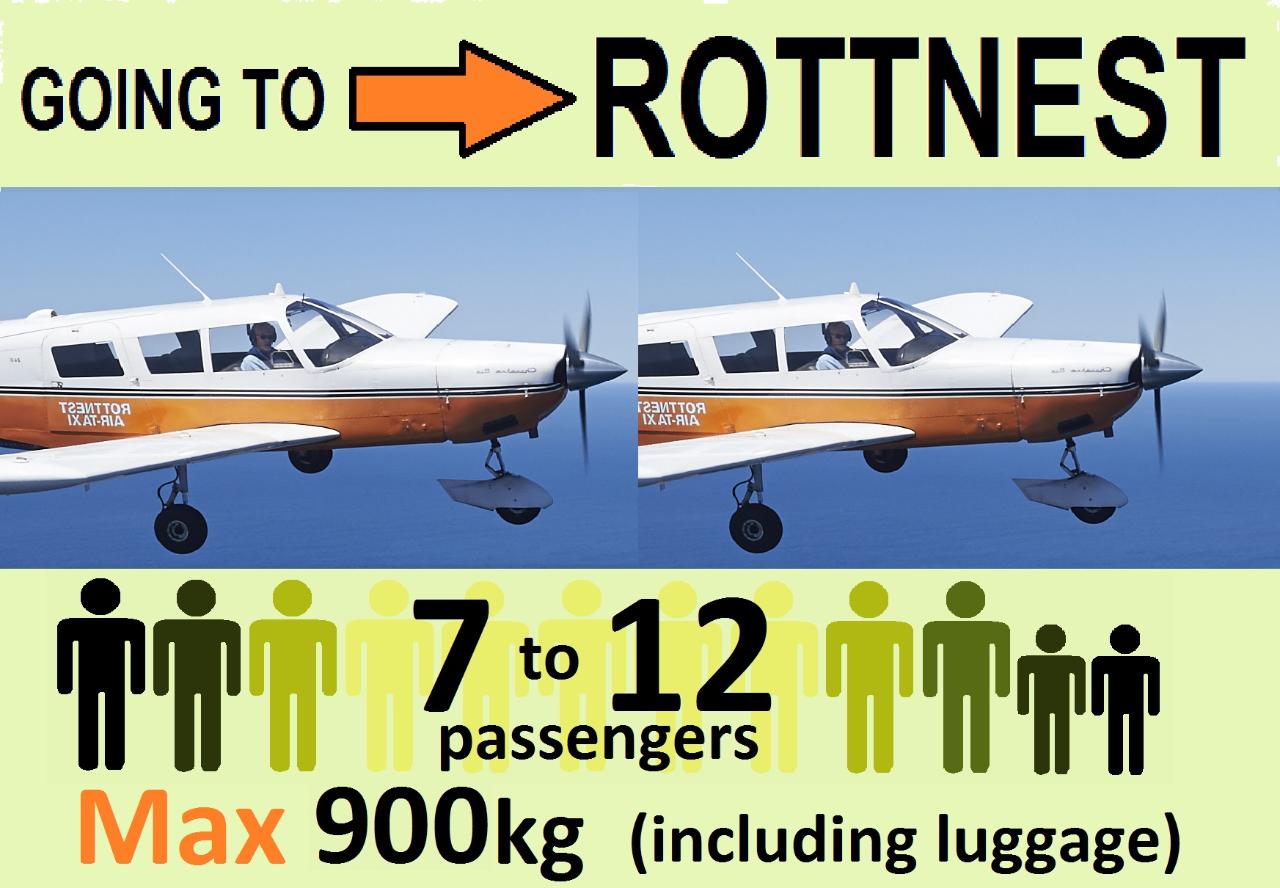 Duration: 20 Minutes
Location: Jandakot, WA
PRICE
Standard total for your private hire is $1191 all up.
With say SEVEN PASSENGERS that makes $112 EACH.
With say TEN PASSENGERS that makes $78 EACH.
These prices INCLUDE:
1. Your Rottnest Island Arrival Charges
2. Free Parking at Jandakot Airport.
3. Your return flight back to Perth
Please note: These will be your own private flights, we will not add other passengers from other bookings to your aircraft.
Early morning and late afternoon departures may vary in price.

DESCRIPTION
Return flight from Perth (Jandakot Airport) to Rottnest Island in two of your own private planes. Departs Jandakot at various times through the day of your choosing and then departs Rottnest Island, also of your choosing. The return flight can be on the same day or on another day.
This booking is for two of our seven-seat Piper PA32 aircraft (pilot occupies a seat).
WEIGHT LIMIT
Each aircraft seats between 4 and 6 passengers, but please note that the sixth seat is a middle bench seat and only suitable for a child or small adult. Two kids less than 30kg each can share a seat - call us. Infants can travel with an adult - call us. There is a strict legal limit of 900 kg total combined weight of passengers and luggage.
There is only limited space for luggage - so no large suitcases please, nor are we able to carry surfboards, bikes or most strollers! Please also no dive tanks, camping stoves or other dangerous goods.

BOOKING INSTRUCTIONS

1. Choose your DEPARTURE DATE FIRST (Depart* under "Start Booking Now")
You will find lots of departure times throughout the day at the next step.
2. Click 'BOOK NOW' to look at DEPARTURE TIMES.
3. Book your included return flight LAST.
Otherwise please call us on 0421 389 831.